Akil Palanisamy
The Paleovedic Diet: A Complete Program to Burn Fat, Increase Energy, and Reverse Disease
Join TNS Host Michael Lerner and Rebecca Katz, Director of the Healing Kitchens Institute at Commonweal, for a conversation on a deeply sophisticated approach to integrating the Paleolithic diet with Ayurvedic Medicine with Akil Palanisamy, MD. Participants may find that what they thought was a healthy paleolithic diet differs considerably from what Dr. Palanisamy recommends.
Reserve Seats
Tuesday, April 26
10:00 am PDT - 12:00 pm PDT
---

Free; held in Bolinas, CA
Registration requested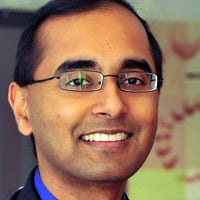 Akil Palanisamy, MD
Akil is a Harvard-trained physician who is trained in functional medicine and integrative medicine. He completed his premedical training at Harvard University in biochemistry followed by medical training at University of California – San Francisco and Stanford. He studied with Dr. Andrew Weil at the University of Arizona. His passion in life is to help people achieve health and balance through natural means, without pharmaceuticals whenever possible. He is the author of The Paleovedic Diet (January 2016) and practices medicine at The Institute for Health and Healing in San Francisco.