Anna Belle Kaufman: CANCELLED
Sacred Subjects, Sacred Objects
~EVENT POSTPONED~
Join TNS Host Reb Irwin Keller in conversation with art psychotherapist Anna Belle Kaufman. Anna Belle loved her career as a costume and set designer in Hollywood. When her son was born with grave medical problems, she could no longer make art for entertainment. Instead, art became a place to express and relieve her own losses and those of others. Her son's death was also the beginning of spiritual journey, deepened by having to create a very different life within her own chronic illness. Her art now, on exhibition in the gallery at Commonweal, is a celebration of the sacred inherent in everything. Scent free event, please.
EVENT CANCELLED
Monday, June 10
7:00 pm PDT - 8:30 pm PDT
---
Congregation Ner Shalom
EVENT CANCELLED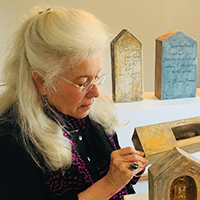 Anna Belle Kaufman
Anna Belle studied sculpture at Rhode Island School of Design and California College of Arts and Crafts, but mid-grad school she became interested in costume and set design. She received her MFA in theater design from Brandeis University, and worked in theater and television. After her son's birth, she became an advocate for families with hospitalized children, and, after his death, an AIDS educator and activist. Her poems and  Pushcart-nominated essays have been published in The Sun, Calyx, The Networker, Utne Reader and Brain, Child Magazine, as well as the Journal of Art in Psychotherapy, and performed by the Jewish Women's Theater.