Forest Performance with Sha Sha Higby
Powdered Sea in the Labyrinth
Join us for an enchanted late afternoon in the Commonweal forest with performance artist Sha Sha Higby's mythical, evocative, and haunting performance incorporating puppetry and masks. We'll be there to watch her emerge out of the labyrinth in the Commonweal forest on the afternoon of the full moon: October 28th. She will use her newest skeletal wings and wings of captured fall leaves.
Bring a bell or small chime, and a mat or pillow to sit on in the forest. Be prepared for changeable weather and to walk from available parking areas. Please carpool!
Watch a previous performance of Sha Sha's at Commonweal.
Register HERE
Saturday, October 28
5:00 pm PDT - 6:30 pm PDT
---
An outdoor space at Commonweal
Suggested donation $30 and greater; no one turned away.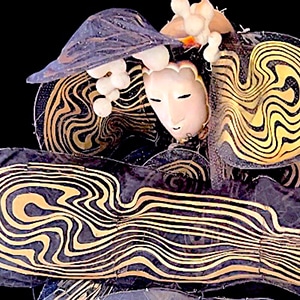 Sha Sha Higby
Sha Sha pursued the art of puppetry and sculpture in her early years, and spent one year in Japan studying the art of Noh Mask and theater. She received a Fulbright-Hayes Scholarship to study dance and shadow puppet making in the villages in Indonesia for five years at the Academy of Music and Dance, studied lacquer arts in Tokyo and Kyoto under the Japan-United States Friendship Commission, received an Indo-American fellowship to study the textile arts of India, and a Pilot Travel Grants Fund from Arts International for Bhutan, the National Endowment for the Arts in Solo Theater Fellowship, U.S. Artists at International Festivals and Exhibitions, Theater Bay Area CASH, and the California Arts Council. Find out more at shashahigby.com and follow her on Instagram, Facebook, Vimeo and X.