Marielena Hincapié and Host Lyons Filmer
Migrant Women Shaping the Path Forward / Mujeres Inmigrantes que Forjan la Trayectoria
~Para la traducción al español, haga clic aquí~
Join us for the first conversation in our Empowering Women in Today's World series, co-presented by The New School at Commonweal and the Mesa Refuge. Live Spanish translation will be available during the webinar.
In this conversation, join our host Lyons Filmer in conversation with Marielena Hincapié—attorney, legal and political strategist in the immigrant justice movement—a leading voice in the national conversation on immigration.
Join us for the next two conversations in this series:

Photo: Kim Komenich / San Franciso Chronicle
Register HERE / Apuntarse AQUÍ
Friday, August 26
10:00 am PDT - 11:30 am PDT
---
Virtual Event (Zoom Webinar) / Evento virtual (Webinario por Zoom)
Free (by donation) / Gratis (se aceptan donativos)
Virtual event only / Se realiza únicamente de manera virtual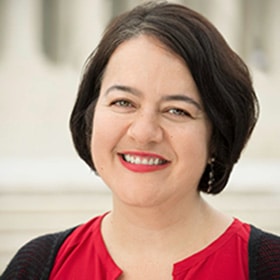 Marielena Hincapié
Marielena is an immigrant from Medellin, Colombia. Growing up in Rhode Island as the youngest of ten kids, she became an interpreter for her parents at schools, hospitals, and government agencies where she learned about the structural barriers and inequities facing poor people in this country, especially people of color and immigrants. For 20 years, she served as executive director of the National Immigration Law Center (NILC), the nation's leading organization dedicated to defending and advancing the rights of low-income immigrants in the United States.  Under her leadership, NILC has been at the legal forefront of the fight to stop President Trump's attempt to rescind DACA, successfully representing DACA recipients and Make the Road New York in a U.S. Supreme Court case in which the Court found that the Trump administration's rescission was "arbitrary and capricious."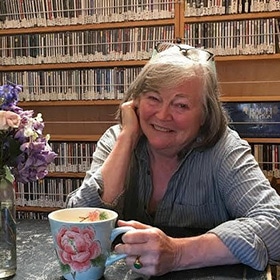 Lyons Filmer
Lyons is the former program director at community radio KWMR in Point Reyes Station, California, where she served for 18 years. Her interest in radio began in college, where she was a music DJ and news reader. In the 1990s, she was a volunteer programmer at KPFA in Berkeley, where she produced and hosted programs on women's issues, drama and literature. She joined KWMR in 1999 and became its program director soon after. Among other programs, Lyons hosts "Mesa Refuge Interviews," talking with the current residents of Mesa Refuge Writers Retreat.