Janie Brown
The Road to Callanish: A Spiritual Biography
The Learning Community Series at The New School
Join TNS Host Michael Lerner in a virtual conversation with Janie Brown, nurse, psychologist, and founder of the Callanish Society—a grassroots non-profit organization in Vancouver for people living with, and dying from, cancer.
Register HERE
Friday, July 31
9:00 am PDT - 10:30 am PDT
---
Webinar
By donation; held as a virtual event only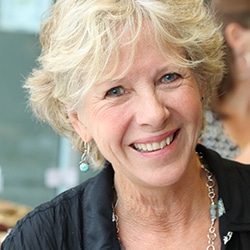 Janie Brown
Janie Brown RN, MSN, MA was raised in Scotland and educated with a masters in psychology at St. Andrews University, and then a masters in nursing at the University of British Columbia, Vancouver, Canada. She worked for many years as an oncology nurse and clinical nurse specialist at BC Cancer in Vancouver. In 1995, inspired by the Cancer Help Program at Commonweal, she founded the Callanish Society, a grassroots non-profit organization for people living with, and dying from, cancer, based in Vancouver. She co-produced a documentary film: "I'm Still Here: Young Adults Living Life with Recurrent Cancer.
Janie presents nationally and internationally and writes a widely read blog. In 2016, Janie received a Lloyd Symington Foundation grant to write her book Radical Acts of Love: How We Find Hope at the End of Life which was published in March 2020 by Canongate in the UK, and Doubleday, Canada.