Lata Mani
The Poetics of Fragility
Join us for a film screening followed by a conversation with TNS Host Michael Lerner and film maker Lata Mani.
The Poetics of Fragility (63 minutes) is a kaleidoscopic exploration of the texture, vitality, and aesthetics of fragility. Shot in the San Francisco Bay Area in September 2015 by co-directors Lata Mani and Nicolás Grandi, the film features internationally renowned scholar-activist Angela Davis, the acclaimed playwright and critic Cherrie Moraga, Nora Cortiñas, the inspiring founding member of Madres de Plaza de Mayo Linea Fundadora, actor-dancer Greg Manalo, feminist performance artists Thao P. Nguyen and Martha Rynberg, theater scholar Jisha Menon, healer Christopher Miles, creative writer Xochitl M. Perales and the young trombone talent, Jasim Perales. Find out more on their website.
Reserve Seats
Tuesday, October 25
2:00 pm PDT - 4:00 pm PDT
---
Commonweal
Free; held in Bolinas
RSVP Requested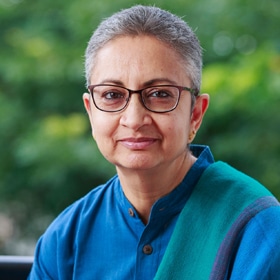 Lata Mani
Lata is a feminist historian, cultural critic, contemplative writer, and filmmaker. She has published on a broad range of issues, from feminism and colonialism, to illness, spiritual philosophy, and contemporary politics.  She is the author of The Integral Nature of Things: Critical Reflections on the Present (Routledge 2013), Interleaves: Ruminations on Illness and Spiritual Life (Yoda 2011), Sacred Secular: Contemplative Cultural Critique, (Routledge 2009) and Contentious Traditions: The Debate on Sati in Colonial India (University of California Press 1989).