Quartet San Francisco
Concert in Commonweal Gallery
Join us for a special concert with Quartet San Francsico, sponsored and hosted by West Marin's KWMR radio station. This concert is free, but KWMR will accept donations towards our ongoing operations at the event.
Registration is required for this event.
Register Here
Sunday, December 6
2:00 pm PST - 4:00 pm PST
---
Commonweal Gallery
Free; donations support KWMR
Registration Required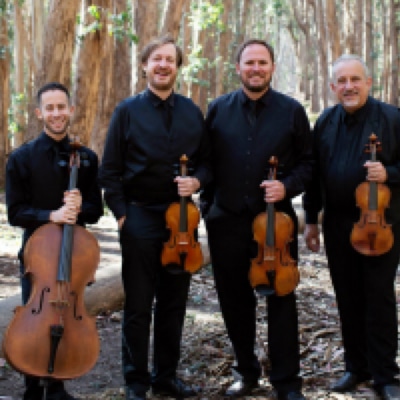 Quartet San Francisco
Grammy nominees for their last three CD releases (2009, 2007, and 2006) and International Tango competition winners (New York, 2004), Quartet San Francisco expresses itself in its agility and standout virtuosic playing. Quartet San Francisco was founded in 2001 by celebrated Bay Area violinist and composer-arranger Jeremy Cohen. He is joined by violinist Matthew Szemela, violist Chad Kaltinger, and cellist Andres Vera.  As crossover specialists QSF excels in multiple styles — from jazz to tango, pop to funk, blues to bluegrass, gypsy swing to big band and beyond.
Since its concert debut in 2001, Quartet San Francisco has offered its exclusive and ground-breaking literature to local, national and international audiences in a variety of venues that include tango and concert halls, jazz festivals, museums, and classrooms. In 2002 the quartet began its on-stage collaborations with tango dancers. In the 2004-06 academic years the quartet was in residence at Mills College in Oakland, California.