Rachel Remen, MD
Trusting the Process: The Basics of Discovery Model Learning
~A Healing Circles and New School Event~
Please join us for this very special opportunity to spend the day with Dr. Rachel Remen learning about the discovery model curriculum for learning she has developed over decades of work with medical students and nurses around the world.
Rachel's discovery model curriculum for medical students, The Healer's Art, is presently taught annually at more than 80 medical schools in the United States and in seven other countries. Rachel has developed this model to create a community of inquiry in which mutual healing, clarification of deep meaning and values, and personal transformation become accessible. Her discovery model philosophy and curriculum design is integral to the work of Commonweal's new program, Healing Circles.
There will be no charge for this event. We welcome and depend upon your contributions and support; please be as generous as you can afford to be. Please bring a bag lunch and everything you need to accommodate your meal.
Register Here
Saturday, April 11
10:00 am PDT - 4:00 pm PDT
---
Commonweal Gallery
Free; donations accepted gratefully
RSVPs Required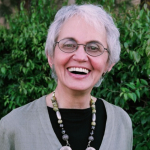 Rachel Naomi Remen, MD
Rachel Naomi Remen, MD, is the founder and director of the Institute for the Study of Health and Illness at Commonweal. Rachel has served as medical director of the Commonweal Cancer Help Program for the past 29 years. Her New York Times bestselling books of healing stories, Kitchen Table Wisdom and My Grandfather's Blessings, have been translated into 22 languages. Rachel is also clinical professor of Family and Community Medicine at University of California San Francisco School of Medicine.