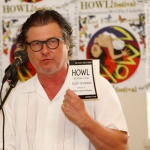 Bob Holman
Sing This One Back to Me: The Spoken Word
Bob Holman studied poetry at Columbia University in the 1970s (where he now teaches), but considers his "major poetry schooling" to be his time on the Lower East Side in New York with Allen Ginsberg, John Giorno, Anne Waldman, Miguel Piñero, Hettie Jones, Ed Sanders, Amiri Baraka, Ted Berrigan, Alice Notley, Pedro Pietri, David Henderson, Steve Cannon, and many others.
Join Michael Lerner in a conversation about Bob Holman's life, history with the Beat Poets, his activism, and the oral tradition of spoken word or "slam" poetry.
Bob Holman
As a promoter of poetry in many media, Bob has spent the last four decades working variously as an author, editor, publisher, performer, emcee of live events, director of theatrical productions, producer of films and television programs, record label executive, university professor, poet's house proprietor, and archivist. Bob is the founder and proprietor of the Bowery Poetry Club in New York City, which opened to the public in September 2002. Holman's most recent work has been devoted to bringing attention to Endangered Languages — he is the host of Language Matters!, a PBS documentary shot in Wales, Hawaii, and Australia, that airs in late 2013. His most recent collection, Sing This One Back to Me, was released by Coffee House Press in May 2013. Find out more about Bob on his website.