Steve Lerner
The Commonweal Story (part 3)
During this 40th anniversary year for Commonweal, Michael Lerner, Commonweal Co-Founder, and Steve Lerner, former Commonweal Research Institute Director, offer the third of a series of conversations about Commonweal's story for The New School.
Steve Lerner was among the earliest partners in founding Commonweal. He directed the Commonweal Research Institute, and he and Burr Heneman launched the campaign to stop oil drilling off the Northern California Coast. He played a key role in Commonweal campaigns for juvenile justice reform, for sustainable development, and for environmental justice.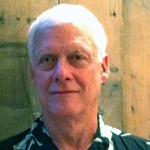 Steve Lerner
Steve served as the early research director of Commonweal. He is the author of Diamond: A Struggle for Environmental Justice in Louisiana's Chemical Corridor; Eco-Pioneers: Practical Visionaries Solving Today's Environmental Problems; The Earth Summit: Conversations with Architects of an Ecologically Sustainable Future; and Beyond the Earth Summit: Conversations with Advocates of Sustainable Development. Learn more about Steve's book, Sacrifice Zones.