Michael Lerner and Rachel Naomi Remen
The Commonweal Story (part 4)
During this 40th anniversary year for Commonweal, Michael Lerner, Commonweal Co-Founder, and Rachel Remen, MD, Medical Director of the Commonweal Cancer Help Program, offer the fourth in a series of conversations about Commonweal's story for The New School.
In addition to being the Medical Director of the Commonweal Cancer Help Program for almost 30 years, Rachel directed the Institute for the Study of Health and Illness (ISHI) at Commonweal for 25 years. One of ISHI's programs, the Healer's Art, has reached almost 16,000 medical students at medical schools around the world. Rachel is the author of Kitchen Table Wisdom and My Grandfather's Blessings, best sellers in many languages around the world.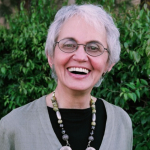 Rachel Naomi Remen, MD
Rachel is a nationally recognized medical reformer and educator who considers the practice of medicine to be a spiritual path and a path of service. She is internationally acclaimed as one of the earliest pioneers in the Integrative Health movement, and among the first to practice and teach a medicine of the whole person. As a doctor with a 63-year personal history of Crohn's disease, she brings the perspective of both physician and patient to her pioneering work and her approach to medical education.
She is clinical professor of family and community medicine at the University of California San Francisco (UCSF) School of Medicine, clinical professor of community health at Wright State University Boonshoft School of Medicine, founder and director of the Remen Institute for the Study of Health and Illness at Wright State University, and cofounder of the Commonweal Cancer Help Program that was featured in the highly acclaimed Bill Moyers PBS series, Healing and the Mind. Her many groundbreaking curricula enable physicians and other health professionals worldwide to recognize their work as spirit in action, strengthen their calling to heal and renewing their commitment to compassionate service.