David Best
The Burning Man Temples and Beyond
Best and his crews built the first Burning Man Temple in 2000, which marked the beginning of a new and profound ritual for the tens of thousands of participants who attend Burning Man each year. After days of writing prayers on the structures, of affixing offerings from one's life such as pictures, paintings, or of leaving the ashes of loved ones, the Temple are burned on Sunday nights. David has done other major temple projects in Derry/Londonderry in Northern Ireland, London's Burning festival, San Francisco, Detroit, and elsewhere.
In this presentation and discussion with The New School Host Steve Heilig, David will talk about his efforts and inspirations, with visual images of this striking and even awe-inspiring work.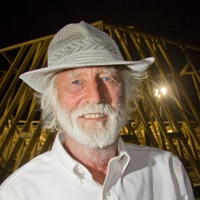 David Best
David Best is an internationally renowned American sculptor. He is well known for building immense temples out of recycled wood sheets for the Burning Man festivals, where they are then burnt to the ground in a spectacle of light and heat. He has created sculptures from the skeletons of 36 cars and two buses, and worked with more than 10,000 people.
Best received a master's degree in sculpture from the San Francisco Art Institute. His commitment to public art seems rooted in 1960s-era idealism. His works — ceramic sculpture, collages and more — have been shown at the San Francisco Museum of Modern Art, the Oakland Museum, the San Jose Museum of Art, di Rosa and elsewhere.