Diana and Kelly Lindsay
Healing Circles Langley
Diana Lindsay was diagnosed with stage 4 lung cancer in 2006. She was given three months to live and told to go on hospice care. But her new granddaughter gave her a powerful reason to live. Even though new medicine was helping some patients with lung cancer, Diana and her husband Kelly felt the medicine would not be enough. So they embarked on an intensive "joy protocol" in which her intuition guided her in both medical and integrative therapies. Her intuitive power of visualization was unusually strong.
More recently,  they founded Healing Circles Langley to share their experience of healing with others. Healing Circles Langley is a program of Commonweal and a pioneering site for Commonweal's Healing Circles project. Join TNS Host Michael Lerner in conversation with Diana and Kelly, authors of Something More Than Hope: Surviving Despite the Odds, Thriving Because of Them.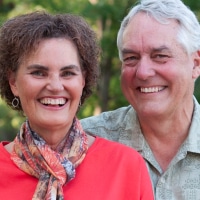 Diana and Kelly Lindsay
Diana met Kelly Lindsay when he was a biology major and she was a dance and music major at Stanford University. During nearly 40 years of marriage, they have taught college students and children, been global activists, and built the marketing and financial skills to found their own company.
In 2006, Diana and Kelly Lindsay were chief executives of Lindsay Communications, a high-tech marketing and communications company serving hundreds of companies from Fortune 100 multi-nationals to start-ups. When she was diagnosed with terminal cancer, they realized the customers they most needed to communicate with were Diana's cells. While she learned how to visualize them and ask for their guidance, he created a high-bandwidth grid with his hands as a Reiki master to power those cells back to health. Today Diana and Kelly speak to anyone facing seemingly insurmountable odds, inspiring them to find something more than hope.