Eric Karpeles
The Last Threshold: Artists and Mortality
Bolinas painter and writer Eric Karpeles will talk about the role that artists have played in helping to imaginatively frame and comprehend the idea of how we cease to be.
How is it that artists, engaged in the most willful need to express their very beings, seem to overcome the fear of the loss of self? Focusing on three distinct art forms—painting, poetry and music—and three supreme practitioners—Mark Rothko, Emily Dickinson and Gustav Mahler—Karpeles will attempt to create an awareness of how, in their struggle to give voice, artists make use of their accumulated subjective experience to look and listen and learn with acute attention and focus, navigating between the physical world and the life of the mind. The boundary between what we know and what we cannot know is a minefield of stimulation for artists, who help teach us by example how to meaningfully embrace the end that awaits us all.
Download the slide presentation here.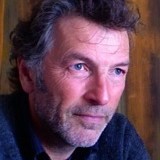 Erik Karpeles
Commonweal Board Member Eric Karpeles is a painter and writer. Born and raised in New York, he has also lived in India and in France, settling in Bolinas in 2007. His painting career has been shaped by the quest for a spiritual presence in art, and by a negative response to the elitism of the contemporary marketplace. The Rockefeller Chapel is a room-sized painting he completed in 1996, a permanent installation at the HealthCare Chaplaincy in New York City. Karpeles writes about painting and the intersection of literature and visual aesthetics; his book, Paintings in Proust, translated into several languages, was a "book of the year" in the NY Times, the Times of London, and The Wall Street Journal.