Anna O'Malley and Host Steve Heilig
Good Medicine: Music, Creativity, Culture and the Cultivation of Resilience
Join us in person or virtually for a conversation with TNS Host Steve Heilig and Dr. Anna O'Malley—both public health experts and music lovers—about how creative play, music-making, and dancing is soul medicine and builds individual and community resilience. This (outdoor) event took place just before Commonweal's Open House.
Photo: Laura Kudritzki
Anna O'Malley, MD
Anna is an Integrative Family and Community Medicine physician, a lover of Nature, a mother of two incredible daughters. As a Bravewell Fellow graduated from the University of Arizona's Program in Integrative Medicine, Anna is inspired by working to transform medicine. Her residency training at University of California, San Francisco at San Francisco General Hospital and her work within the California prison system deepened her understanding of the social determinants of health, the beauty of the path of service, and the critical importance of inclusivity. Her practice of Integrative Family and Community Medicine in West Marin allows her the profound privilege of embodying the healer archetype in the village, exploring innovative models applying Community as Medicine, and honoring the mysterious and beautiful cycles of Life.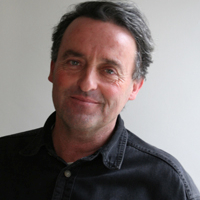 Host Steve Heilig
Steve is a longtime senior research associate with Commonweal, a co-founding director of the Commonweal Collaborative on Health and the Environment, a host of dialogues for the New School, and in other programs originating at or founded at Commonweal. Trained at five University of California campuses in public health, medical ethics, addiction medicine, economics, environmental sciences, and other disciplines, his other work includes positions at the San Francisco Medical Society, California Pacific Medical Center, and as co-editor of the Cambridge Quarterly of Healthcare Ethics. He has served on many nonprofit boards and appointed commissions, and is a trained hospice worker. He is a widely published essayist and book and music critic for the San Francisco Chronicle, Huffington Post, and many other publications.