Paul J. Growald
The Way of the Bees (and Other Pollinators)
Join Michael Lerner in conversation with investor, venture philanthropist, and beekeeper Paul J. Growald.
While a long-time resident of San Francisco, Paul served on and chaired the board of directors of the California League of Conservation Voters for more than 20 years. He currently lives on a farm in Vermont, is married, the father of two college-aged sons and the keeper of tens of thousands of honeybees.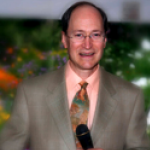 Paul J Growald
Paul is chairman and founder of the Coevolution Institute and its Pollinator Partnership including the North American Pollinator Protection Campaign. He is also a trustee of the Rockefeller Family Fund and donor/advisor to the Growald Family Fund. His main philanthropic interests are in the conservation of ecosystem services as exemplified by pollinators, in the minimization, mitigation, and management of climate change, and in policies and politics that impact conservation.
Paul has been an amateur entomologist and naturalist since childhood. Following graduate school Paul worked as a special correspondent for The Washington Post, and then founded what became the Second Harvest Food Bank in San Jose, California. He was appointed by the Governor as the first public member of the California State Board of Food and Agriculture.