Rachel Naomi Remen, MD
Trusting the Process: The Basics of Discovery Model Learning
~A Healing Circles and New School Event~
Please join us for this series with Dr. Rachel Remen. She is joined by Commonweal Founder Michael Lerner as well as Healing Circles-Langley Founders Diana and Kelly Lindsay.
In part 1 of this series, Michael Lerner introduces the speakers and Healing Circles community. Diana and Kelly Lindsay give an overview of Healing Circles-Langley and the work being done there. Finally, Michael talks about the theory and process work that has been the heart of the Commonweal Cancer Help Program for decades and is the "curriculum" for the Healing Circles programs developing now. View this video or listen to the podcast.
In part 2, Rachel gives an overview (and some experiences) of the discovery model curriculum for medical students, The Healer's Art, which is presently taught annually at more than 80 medical schools in the United States and in seven other countries. Rachel has developed this experiential model to create a community of inquiry in which mutual healing, clarification of deep meaning and values, and personal transformation become accessible. Her discovery model philosophy and curriculum design is integral to the work of Commonweal's new program, Healing Circles. View this video or listen to the podcast.
In part 3, Michael, Rachel, Diana, and Kelly sit together to explore the important pieces of the day, and bring in audience questions. View this video. No podcast is available.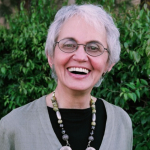 Rachel Naomi Remen, MD
Rachel Naomi Remen, MD, is the founder and director of the Institute for the Study of Health and Illness at Commonweal. Rachel has served as medical director of the Commonweal Cancer Help Program for the past 29 years. Her New York Times bestselling books of healing stories, Kitchen Table Wisdom and My Grandfather's Blessings, have been translated into 22 languages. Rachel is also clinical professor of Family and Community Medicine at University of California San Francisco School of Medicine.