Ramblin' Jack Elliott
Ramblin' On with Ramblin' Jack
Jack was King of the Folksingers.  -Bob Dylan

Nobody I know—and I mean nobody—has covered more ground and made more friends and sung more songs than the fellow you're about to meet right now. He's got a song and a friend for every mile behind him. Say hello to my good buddy, Ramblin' Jack Elliott.  -Johnny Cash
One of the last true links to the great folk traditions of this country, with more than 40 albums under his belt, Ramblin' Jack Elliott is a living legend of American music. A longtime West Marin resident and Grammy Award winner, he has recorded more than 40 albums, influencing countless other well-known musicians. Join Ramblin' Jack and Commonweal's Steve Heilig, a veteran music journalist, for an informal talk about Jack's amazing life story, the many figures he has known and played with through the decades—names like Guthrie, Seeger, and Dylan—and even hear a song or two.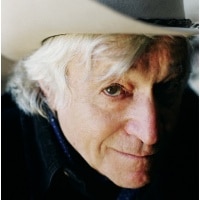 Ramblin' Jack Elliott
There are no degrees of separation between Jack and the real thing. He is the guy who ran away from his Brooklyn home at 14 to join the rodeo and learned his guitar from a cowboy. In 1950, he met Woody Guthrie, moved in with the Guthrie family and traveled with Woody to California and Florida, from the redwood forests to the Gulf Stream waters. President Bill Clinton awarded Jack the National Medal of the Arts, proclaiming, "In giving new life to our most valuable musical traditions, Ramblin' Jack has himself become an American treasure."
He has recorded 40 albums; wrote one of the first trucking songs, Cup of Coffee, recorded by Johnny Cash; championed the works of new singer-songwriters, from Bob Dylan and Kris Kristofferson to Tim Hardin; became a founding member of Bob Dylan's Rolling Thunder Revue; and continued the life of the traveling troubadour influencing Jerry Jeff Walker, Guy Clark, Tom Russell, The Grateful Dead, and countless others.