Rebecca Burgess
Regenerating Community Fiber Systems
Join TNS Host Michael Lerner in conversation with West Marin educator, writer, and natural dye farmer Rebecca Burgess. Rebecca founded Fibershed, an educational and community development organization which was founded, in part, to increase awareness around toxic chemicals and their central role in both fabric and health.
Photos: courtesy Paige Green Photography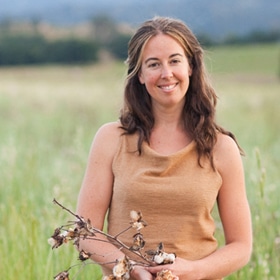 Rebecca Burgess
Rebecca works as an educator, writer, and natural dye farmer. She enjoys knowing the biological roots of where everything comes from—behind everything we own, use, and consume is a story.
Instead of continuously feeling downtrodden by the stories behind a material culture, she decided to change the narrative—beginning with her wardrobe. Her "fibershed project" is a statement and a practice that has shown her that she can flourish in a wardrobe constructed completely from the resources of her community (soil to skin). Limiting her wardrobe to the bare minimum, and using local fiber, dye, and labor has been her greatest joy and challenge to date.