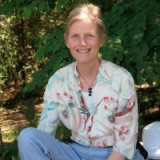 Stephanie Sugars
What Do I Have to Offer before I Leave My Body?
In this podcast, long-time alumna of the Commonweal Cancer Help Program Stephanie Sugars talks with Michael Lerner about her journey with illness, treatments, and healing–and the insights that come from living on the "edge of life."
Stephanie Sugars
Stephanie is a human being, a friend to life and death, and a passionate participant in the natural and human worlds. She's lived with a serious genetic illness for more than 50 years (Peutz-Jeghers syndrome) and with metastatic breast cancer for more than 20 years. Her healing quest led her to Commonweal's Cancer Help Program in 1992, 2009, and 2012. She seeks to be of use to the world. She explores the intersection of the personal and universal on her blog.