Ursula Goodenough, PhD
The Sacred Depths of Nature
Join Michael Lerner in conversation with professor and author Ursula Goodenough about her work and book, The Sacred Depths of Nature.
As well as her biology courses, Ursula co-teaches The Epic of Evolution, with a physicist and a geologist, for non-science students. Her research has focused on the cell biology and (molecular) genetics of the sexual phase of the life cycle of the unicellular eukaryotic green alga Chlamydomonas reinhardtii and, more recently, on the evolution of the genes governing mating-related traits.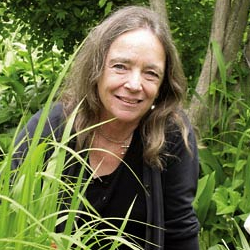 Ursula Goodenough
Ursula is professor of biology at Washington University in St. Louis, Missouri. She is the author of The Sacred Depths of Nature (Oxford University Press, 1998), which offers religious perspectives on our scientific understandings of nature, particularly biology at a molecular level. 
Ursula was educated at Radcliffe and Barnard Colleges, Columbia University, and Harvard University. She did two years of postdoctoral work at Harvard, and was assistant and associate professor of biology at Harvard from 1971-1978 before moving to Washington University.