Walter Murch
Music of the Spheres: Rediscovering the Harmonic Relationship among Planets
Walter Murch is an Academy Award-winning film editor and sound producer, but his greatest historical contribution may yet prove to be in astronomy, where he has refined and rehabilitated an ancient observation that the planets and moons in our solar system are arranged in a harmonic relationship that gives scientific expression to the concept of "the music of the spheres." Join Michael Lerner in this conversation about the harmonic relationship among planets—the music of the spheres.
Note: This conversation relied heavily on Mr. Murch's visual presentation, which is unavailable. Still, we found the conversation so compelling as to make it available for listening. Please familiarize yourself with this article for further understanding of Walter's work in this area.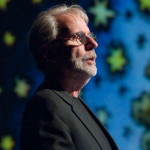 Walter Murch
Walter is an Academy Award-winning film editor and sound designer who has done celebrated work with George Lucas, Francs Ford Coppola, Anthony Minghella, and others. He is the subject of Michael Ondaatje's The Conversations, based on their dialogues when Murch was editing Minghella's The English Patient (based on Ondaatje's novel). He has written an acclaimed book on film editing, In the Blink of an Eye.