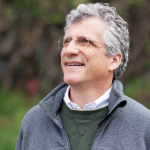 William Rosenzweig
Food: Business, Movement, or Both?
Join Michael Lerner for a conversation with William Rosenzweig about sustainable living and ethical business. William is the Republic of Tea's founding CEO, and also co-author of the bestselling book The Republic of Tea: How an Idea Becomes a Business, recently named one of the 100 best business books of all time.
William Rosenzweig
William is currently co-founder and Partner at Physic Ventures, a venture capital firm supporting science-based companies focused on health and sustainability. Will currently works closely with EnergyHub, GoodGuide, Pharmaca Integrative Pharmacy, Own, Recyclebank, Revolution Foods, and Yummly.
As an entrepreneur, Will has been involved as a founder and executive of more than a dozen early-stage ventures. Will was founding CEO (and Minister of Progress) of The Republic of Tea, an award-winning specialty tea company that is credited with creating the premium tea category in the United States. He has played key leadership roles at Nakamichi, the TED Conference, Odwalla, Leapfrog Toys, Brand New Brands, Hambrecht Vineyards and Wineries, Kingdom of Herbs, and Winetasting.com.