Angeles Arrien, PhD
Nothing Special: The Mystery of Everyday Life
Find both Part 1 and Part 2 of our videos of this conversation on our Vimeo channel. Find both Part 1 and Part 2 of our audio podcasts on our Soundcloud site.
As a cultural anthropologist, Dr. Angeles Arrien's research and teaching focused on values and beliefs shared by humanity cross-culturally, and on the integration and application of multi-cultural wisdoms in contemporary settings. She taught universal components of leadership skills, communication, health care, and education, showing how indigenous wisdoms are relevant in our families, professional lives, and our relationship with the Earth.
Join us for conversation with Angeles and Michael Lerner—where they explore her writings, her Basque roots, her life journey and inspirations, what she's doing now, and what is still to come.
Angeles Arrien, Spiritual Biography, Part 1 from The New School at Commonweal on Vimeo.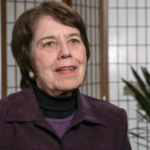 Angeles Arrien, PhD
Angeles was a cultural anthropologist, award-winning author, educator, and consultant to many organizations and businesses. She lectured and conducted workshops worldwide, bridging cultural anthropology, psychology, and comparative religions. Her work is currently used in medical, academic, and corporate environments. Her books have been translated into thirteen languages and she received three honorary doctorate degrees in recognition of her work.
Angeles' books include The Four-Fold Way: Walking the Paths of the Warrior, Teacher, Healer and Visionary; Signs of Life: The Five Universal Shapes and How to Use Them, (Winner of the 1993 Benjamin Franklin Award); and The Second Half of Life: Opening the Eight Gates of Wisdom, (Winner of the 2007 Nautilus Award for Best Book on Aging). Her recent book, Living in Gratitude: A Journey That Will Change Your Life is a Gold Medal Co-Winner of the 2012 Independent Publisher Book Awards (IPPY Award) in the category of Inspiration and Spirituality. 
Angeles Arrien died in April 2014.