Irene Borger
Ten Thousand Joys and Ten Thousand Sorrows
~Co-presented with the Institute for Art and Healing~
Attention Listeners: You may want to do some writing while you listen along with the participants of this event. If so, have a pen and some paper handy and use the pause or start/stop buttons of your audio player to pause the audio while you reflect and write.
The sources of our writing life – the range of joys and sorrows – are close at hand: What we have seen, heard, smelled, touched and been touched by, what we remember, how we have befriended our life experiences through words.
Whether we are dealing with illness, creating something from scratch, or just going about our business in the wild world, we are always swimming in the stream of the unknown. Transformed through the eyes of curiosity, uncertainty becomes vitality, and the core of our creative life.
Irene talks with Jaune Evans about her life as a writer, master teacher, and muse—and offers an opportunity for the audience to participate in simple exercises that invite discovery, playfulness, and, no less important, a bit of exhalation. No prior experience or talent is required.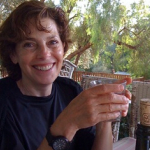 Irene Borger
Irene is a writer and teacher who leads workshops in Los Angeles, the Bay Area, and in Washington, D.C., at Smith Center for Healing and the Arts. Since 1990 she has developed a special offering of her work, grounded in not-knowing and witnessing, to art makers, and people living under conditions of extremity. The founder of the Writing Program at AIDS Project Los Angeles, the country's second-largest AIDS service agency, and artist-in-residence there for ten years, Irene is the editor of From a Burning House: The AIDS Project Los Angeles Writers Workshop Collection, published by Washington Square Press/Pocket Books. 
Irene's writing has appeared in many publications including The Los Angeles Times, Vogue, O, Architectural Digest, and on The Wall Street Journal arts page. Irene is also director of the Alpert Award in the Arts, where she oversees the giving of five annual $75,000 grants to outstanding artists working nationally in dance, film/video, music, theatre, and the visual arts. Her conversations with 19 of these artists are the subject of the book, The Force of Curiosity. She is the writer and curator for a prize-winning website.