Rue Mapp and Host Lyons Filmer
Nature Swagger: Storytelling Black Joy in Nature
Learn how outdoorswoman Rue Mapp turned her childhood experiences on family farmland into a national movement of Black joy and healing in nature. Her first book, Nature Swagger, celebrates those she has connected with along her outdoor journey, sharing each contributor's transformative connections to nature.
This is the third conversation in our Empowering Women in Today's World series, co-presented by the Mesa Refuge, Point Reyes National Seashore Association, and The New School at Commonweal. You can find recordings of the first two events—with attorney and immigrant justice movement strategist Marielena Hincapié and author, mother, and reparative justice attorney Lara Bazelon—on the New School's YouTube playlist, Soundcloud playlist, Apple Podcasts, and Spotify. Watch and/or listen in Spanish or English.
Photo: Outdoor Afro Founder and CEO Rue Mapp with network participants. Credit: Bethanie Hines.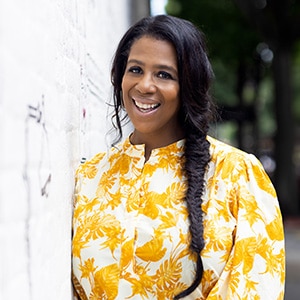 Rue Mapp
Rue transformed her kitchen table blog into a national nature business and movement. Today, she is founder and CEO of Outdoor Afro. For more than a decade, the not-for-profit organization has continued to celebrate and inspire Black connections and leadership in nature across the United States. Mapp also is an awarded and inspirational leader, speaker, public lands champion and published author. Her first national book is Nature Swagger: Stories and Visions of Black Joy in the Outdoors (Chronicle Books, 2022). Mapp became a National Geographic 2019 Fellow, Heinz Awards Honoree, and National Wildlife Federation Communication Award recipient as well. Her work has earned international media attention from Oprah Winfrey, The New York Times, Good Morning America, NPR, NBC's TODAY, Forbes, and recently Netflix's popular series MeatEater with Steven Rinella. Follow her adventures @RueMapp across social platforms.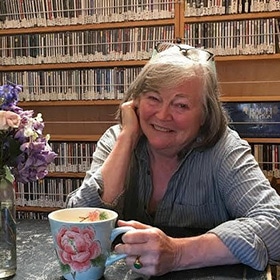 Host Lyons Filmer
Lyons is the former program director at community radio KWMR in Point Reyes Station, California, where she served for 18 years. Her interest in radio began in college, where she was a music DJ and news reader. In the 1990s, she was a volunteer programmer at KPFA in Berkeley, where she produced and hosted programs on women's issues, drama and literature. She joined KWMR in 1999 and became its program director soon after. Among other programs, Lyons hosts "Mesa Refuge Interviews," talking with the current residents of Mesa Refuge Writers Retreat.