Waubgeshig Rice and Host Christine Luckasavitch
Making Space for Indigenous Voices: Sharing Our Stories with the World
What Stories Does the Land Hold? is a conversation series co-presented by the Center for Humans and Nature and The New School at Commonweal as part of the Center's Questions for a Resilient Future Series
Across the world, Indigenous people share something in common: a connection to land and their Ancestral territories. This series of conversations spotlights a collection of Indigenous voices telling the stories of the land and its stories, connecting us to each other and to all of our relations.
Waubgeshig Rice is an author and journalist from Wasauksing First Nation. He has written many brilliant pieces, including his 2018 novel Moon of the Crusted Snow, which quickly became a national bestseller. Join the conversation between Host Christine Luckasavitch (Anishinaabeg and mixed settler) and Waub Rice to dive into their favourite works by Indigenous authors, the importance of making space for Indigenous storytelling, and imagining Indigenous futurisms. Plus, we'll talk a little bit about Waubgeshig's upcoming novel Moon of the Turning Leaves, the sequel to Moon of the Crusted Snow, to be released in October 2023.
Watch all three conversations in this series on our YouTube playlist or listen on our Soundcloud playlist or on iTunes or Spotify.
Photo: Alyssa Bardy Photography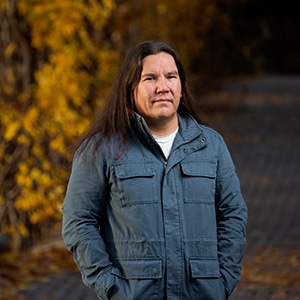 Waubgeshig Rice
Waubgeshig is an author and journalist from Wasauksing First Nation. He has written three fiction titles, and his short stories and essays have been published in numerous anthologies. His most recent novel, Moon of the Crusted Snow, was published in 2018 and became a national bestseller. He graduated from Toronto Metropolitan University's journalism program in 2002, and spent most of his journalism career with the Canadian Broadcasting Corporation as a video journalist and radio host. He left CBC in 2020 to focus on his literary career. He lives in Sudbury, Ontario with his wife and two sons. His forthcoming novel, Moon of the Turning Leaves, will be published in October 2023.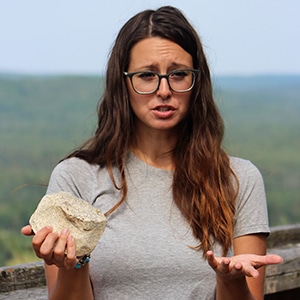 Host Christine Luckasavitch
Christine is an Omàmìwininì Madaoueskarini Anishinaabekwe (a woman of the Madawaska River Algonquin people) and belongs to the Crane Clan, and is of mixed settler ancestry including Irish, Swedish, and Polish. Christine continues to live in her ancestral territory, land that her Ancestors have called home since time immemorial. Christine is the owner of two Indigenous knowledge-based companies, Waaseyaa Consulting and Waaseyaa Cultural Tours, both dedicated to enhancing the awareness and understanding of Algonquin Anishinaabeg history and culture. She is executive director of Native Land Digital, an Indigenous-led not-for-profit dedicated to providing free education of Indigenous territories and knowledge systems across the world. Christine has worked as an archaeologist, educator, and in the realm of Indigenous politics. She spends most of her time out on the land, and has a keen interest in learning more about traditional plant use. She is currently writing her first book, Ondjitigweyaa Madaoueskarini Omàmìwininì (Algonquin People of the Madawaska River Headwaters).