Dr. Amy Shawanda and Host Christine Luckasavitch
Anishinaabe Thinking, Being, Doing, Knowing, and Living
What Stories Does the Land Hold? is a conversation series co-presented by the Center for Humans and Nature and The New School at Commonweal as part of the Center's Questions for a Resilient Future Series
Across the world, Indigenous people share something in common: a connection to land and their Ancestral territories. This series of conversations spotlights a collection of Indigenous voices telling the stories of the land and its stories, connecting us to each other and to all of our relations.
In this conversation, join Host Christine Luckasavitch with Dr. Amy Shawanda, an Odawa kwe from Wikwemikong unceded territory whose academic work is focused on Anishinaabe motherhood, specifically identifying the challenges, tensions, and strengths of incorporating traditional teachings and pedagogies in daily life. Amy and Christine discuss the revitalization of Indigenous knowledges, unapologetically making space for Indigenous knowledges, and the realm of Indigenous health.
Watch all three conversations in this series on our YouTube playlist or listen on our Soundcloud playlist or on iTunes or Spotify.
Photo: Alyssa Bardy Photography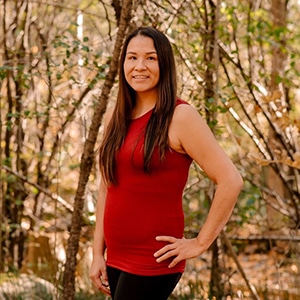 Dr. Amy Shawanda
Amy is an Odawa kwe from Wiikwemkoong, Manitoulin Island. She is a mother, auntie, student, and life-long learner of Anishinaabe cultural ways and Anishinaabemowin. Her research interests primarily lie within Anishinaabe thinking, being, doing, and connecting with the land. She has a specific focus on bringing Indigenous health knowledge into Western health care. Her first publication was with the Turtle Island Journal of Indigenous Health titled "Baawaajige: Exploring Dreams as Academic References." She has diverse research interests that includes Indigenous pedagogies, research methods and methodologies, star knowledge, Dream Knowledges, history, and storytelling.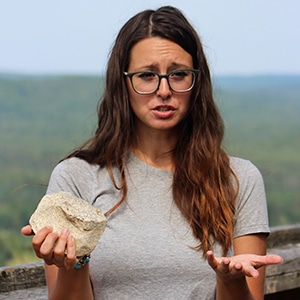 Host Christine Luckasavitch
Christine Luckasavitch is an Omàmìwininì Madaoueskarini Anishinaabekwe (a woman of the Madawaska River Algonquin people), belonging to the Crane Clan, and mixed settler heritage. Christine continues to live in Omàmìwininìaki, unceded Algonquin territory.
Christine is the Owner/Executive Consultant of Waaseyaa Consulting and Waaseyaa Cultural Tours, two small businesses dedicated to reviving and celebrating Indigenous ancestral knowledge and culture-based practices through educational opportunities. She is the co-owner of Algonquin Motors, a woman-led motorcycle clothing company honouring the spirit of unceded Algonquin territory. She is currently writing her thesis to complete her Master of Arts in Indigenous Studies at Trent University.
Christine is the former Executive Director of Native Land Digital, an Indigenous-led not-for-profit dedicated to providing a digital platform for Indigenous peoples to share knowledge about their Indigenous cultures, territories, and knowledge systems across the world.
Her work is centered around creating spaces for Indigenous peoples to share their knowledges, both in physical and digital spaces, and encouraging the re-emergence of ancestral kinship ties.