Ross Chapin
Design, Body Knowing, and the Inner Life
On Whidbey Island, north of Seattle, the imprint of architect Ross Chapin's vision of enchanting small homes and livable pocket neighborhoods is palpable. Ross came to Whidbey in the 1970s, drawn by the vision of the Chinook Learning Center, founded by Fritz and Vivienne Hull. Chinook later became the Whidbey Institute. Ross designed Thomas Berry Hall, the Woodland Sanctuary, and the Whidbey Island Waldorf School on the Chinook land.
In addition to his professional life as an architect and planner, Ross has an inner life enlivened by a sustained engagement with body and spirit. His work has been deeply influenced by the iconoclastic British architect Christopher Alexander.
Join Michael Lerner in conversation with Ross about his work, about Christopher Alexander, and about the evolution of his inner life in a wide-ranging conversation.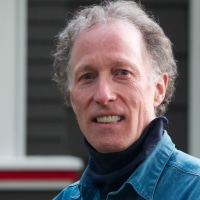 Ross Chapin, FAIA
Ross is a passionate advocate for sensibly-sized homes and pocket neighborhoods—a term he coined for small groupings of households around shared common spaces, which he sees as building blocks for vibrant and resilient communities.
Ross has designed and partnered in developing six pocket neighborhoods in the Puget Sound region. He and his colleagues have designed dozens of communities for developers across the US, Canada and the UK. Many have received international media coverage and design awards. Ross is a member of the American Institute of Architecture College of Fellows and the William S. Marvin Hall of Fame for Design Excellence.
Ross is author of Pocket Neighborhoods: Creating Small Scale Community in a Large Scale World (Taunton Press), a Nautilus Book Award Winner and listed by Planetizen as one of the Top Ten Planning and Design Books of 2012.  Ross's work has appeared in more than 35 books, including Sarah Susanka's Not So Big House series, The Good Green Home, and Solving Sprawl.