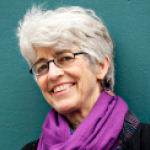 Sue Moon
The Healing Of Stories Writing Workshop
~Co-sponsored by Point Reyes Books and The Mesa Refuge.~
Stories can mend what's broken, can find what's lost, can build bridges over chasms, can make us laugh until we cry and cry until we laugh. Everyone has some stories to tell.
An afternoon of writing and storytelling with Sue Moon.
Sue Moon
Susan Moon is a writer and teacher and for many years was the editor of Turning Wheel, the journal of socially engaged Buddhism. She is the author of The Life and Letters of Tofu Roshi, a humor book about an imaginary Zen master, and editor of Not Turning Away: The Practice of Engaged Buddhism. Her short stories and essays have been published widely. Her most recent book is This Is Getting Old: Zen Thoughts on Aging with Dignity and Humor(Shambhala 2010).
Sue has been a Zen student since 1976, practicing in the lineage of Suzuki Roshi at Berkeley Zen Center, Tassajara Zen Mountain Monastery, Green Gulch Farm, and now with Zoketsu Norman Fischer's Everyday Zen sangha. She received "entrustment" as a lay teacher in 2005.