Rachel Naomi Remen and Michael Lerner
Poems to Live By
Part of The Learning Community Series at The New School
"There are some experiences," Brother David Steindl-Rast once said, "where only poems can carry the freight." The myths of original peoples were often chanted and held in memorized poems. The great religious and spiritual texts are often poems. Join Rachel Naomi Remen and New School Host Michael Lerner in the next conversation in The Learning Community series as they share some of the poems (and sayings) that they live by. Share the poems and sayings that inspire you.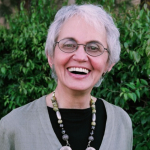 Rachel Naomi Remen, MD
Rachel Naomi Remen, M.D., is a Professor of Family Medicine at Wright State Boonshoft School of Medicine and the Founder and Founding Director of the Remen Institute for the Study of Health and Illness (RISHI), which was at Commonweal for decades and is currently at Wright State University Boonshoft School of Medicine. She is one of the best known of the early pioneers of wholistic and integrative medicine. As a medical educator, therapist, and teacher, she has enabled many thousands of physicians to find individual meaning and purpose in the practice of medicine and thousands of patients to remember their power to heal. More than 30,000 medical students have completed The Healer's Art, her groundbreaking curriculum for medical students taught at the majority of medical schools in America. A master storyteller and observer of life, her bestselling books, Kitchen Table Wisdom and My Grandfather's Blessings have sold more than 2 million copies and have been  translated into 21 languages. Dr. Remen has had Crohn's disease for more than 65 years and her work is a unique blend of the wisdom, strength, and viewpoints of both doctor and patient.