Rachel Naomi Remen
Out of the Fire: A Time of Discovery
Since the North Bay fires, many of us have been wandering in the unknown. Our landmarks are gone: our homes, our workplaces, and perhaps the sense of safety that we had taken for granted. This has been, for many people, a time of discovery. What is true about ourselves that we already knew? What has surprised us? What has changed? And what has endured?
Join Dr. Rachel Naomi Remen, author of Kitchen Table Wisdom and My Grandfather's Blessings, with other members of our community in a 2-hour process of exploration. The evening will begin with a conversation between Rachel and New School Host Irwin Keller, Spiritual Leader of Congregation Ner Shalom. Rachel will then lead an interactive discovery process, involving honest sharing and generous listening.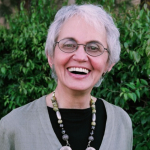 Rachel Naomi Remen, MD
Rachel Naomi Remen, M.D., is Clinical Professor of Family and Community Medicine at UCSF School of Medicine and Founder and Director of the Institute for the Study of Health and Illness at Commonweal. She is one of the best-known of the early pioneers of Wholistic and Integrative Medicine. As a medical educator, therapist, and teacher, she has enabled many thousands of physicians to practice medicine from the heart and thousands of patients to remember their power to heal. Her groundbreaking curriculum for medical students, The Healer's Art, is taught in 90 of America's medical schools and medical schools in 7 countries abroad. A master storyteller and observer of life, her bestselling books, Kitchen Table Wisdom and My Grandfather's Blessings, have sold more than a million copies and are translated into 23 languages. Dr. Remen has had Crohn's disease for more than 60 years and her work is a unique blend of the wisdom, strength, and viewpoints of both doctor and patient.