Sha Sha Higby
Folding into A Tempest
Co-presented with the Institute for Art and Healing.
Join Bolinas sculptural costume artist, Sha Sha Higby, in a whimsical journey of life, death, and rebirth through ephemeral images that evoke the passage of time and day, or the shifting of the seasons. Using the manipulation of hand crafted materials, textures, and exotic sculptural costume interwoven with puppetry, dance, and intricate props, her work creates a journey in which movement and stillness meet. Shreds of memory lace into a drama of a thousand intricate pieces, slowly moving toward a sense of patience and timelessness. Her work creates a journey in which movement and stillness meet.
Sha Sha Higby performing at the New School at Commonweal from Sha Sha Higby on Vimeo.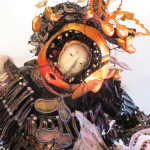 Sha Sha Higby
Sha Sha is an international performance/sculptural artist who has performed her unique body of work throughout the United States and internationally in Korea, Japan, Indonesia, Slovak, Bulgaria, Singapore, Australia, Switzerland, England, Belgium, Germany, and Holland. She is the recipient of numerous grants and awards including the National Endowment for the Arts Solo Theater Artist Fellowship, The Zellerbach Family Fund, and the California Arts Council New Genre Individual Artist Fellowship.