Pat McCabe, Susan Balbas, Ladybird Morgan
Crossing Thresholds: Staying Awake in Changing Times
Join TNS Host Ladybird Morgan to witness and participate in a Wisdom Circle with Pat McCabe (Weyakpa Najin Win) and Susan Balbas, indigenous women leaders and elders. They will explore what is most alive for them today; talk about their work in social justice, environment, and community-building; and discuss what they are carrying forward and what they are letting go of in these changing times.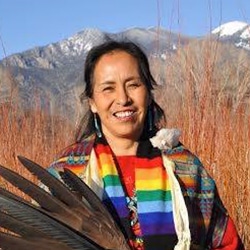 Pat McCabe (Weyakpa Najin Win, Woman Stands Shining)
Pat is a Diné (Navajo) mother, grandmother, activist, artist, writer, ceremonial leader, and international speaker. She is a voice for global peace, and her paintings are created as tools for individual, earth and global healing. She draws upon the Indigenous sciences of Thriving Life to reframe questions about sustainability and balance, and she is devoted to supporting the next generations, Women's Nation and Men's Nation, in being functional members of the "Hoop of Life" and upholding the honor of being human.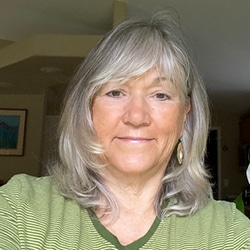 Susan Balbas
Susan (Cherokee/Yaqui) is a community organizer and carries valuable expertise in all levels of nonprofit operations and management. She is board chair of the nonprofit Front and Centered, a statewide coalition of over 60 community of color-led organizations working toward environmental justice, and executive director of Na'ah Illahee Fund, a Native-led community-based organization that advances sustainable Indigenous communities in the Pacific Northwest. Mother of three and grandmother of three, Susan has studied extensively with herbalists, is an avid gardener, cook, and a voracious reader of historical novels.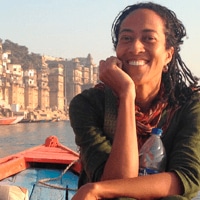 Host Ladybird Morgan, RN, MSW
Ladybird has worked as a registered nurse, clinical social worker, healer and educator for 20+ years. She is the co-founder and Executive Director of Humane Prison Hospice Project whose mission is to implement end of life care in prisons by supporting and training prisoners to be caregivers. Ladybird has worked with many organizations including The Zen Hospice Project, Hospice by The Bay, Doctors Without Borders (MSF) Commonweal and the UCSF/ MERI Center's Last Acts of Kindness Program. She holds space for families and caregivers, medical practitioners, as well as directors of programs and institutions around the world to find their clearest voice as they step across significant thresholds in aging, life and at death.