Sister Miriam MacGillis
Opening the Christian Mysteries to the New Cosmology
~Co-sponsored with Point Reyes Books~
In response to the global crisis, Sister Miriam MacGillis — and her community at their biodynamic Genesis Farm in New Jersey — focus on connections between the health of Earth and of human communities within particular bioregions. From the Genesis Farm website:
Genesis Farm is rooted in a belief that the Universe, Earth, and all reality are permeated by the presence and power of that ultimate Holy Mystery that has been so deeply and richly expressed in the world's spiritual traditions. 
Join us for a conversation between Sister Miriam MacGillis and Michael Lerner about the New Cosmology — talked about by Thomas Berry and Brian Swimme — and how she and the Genesis Farm bring these rich spiritual insights into the practical realm of agriculture, community, and care-taking the Earth.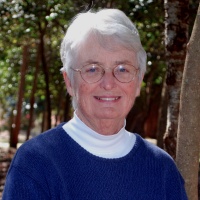 Sister Miriam Therese MacGillis
Sister Miriam is a member of the Dominican Sisters of Caldwell, New Jersey. She lives and works at Genesis Farm, which she co-founded in 1980 with the sponsorship of her Dominican congregation. Miriam describes Genesis Farm as a learning center where people of good will are welcome to search for more authentic ways to live in harmony with the natural world and each other. The farm practices Biodynamic methods of agriculture, which are in tune with the natural rhythms of Earth. It was one of the early pioneers in converting to Community-Supported Agriculture, (CSA), a movement which has expanded across the country. Presently, nearly 300 families from the region are shareholders in its economic base.
Miriam lectures extensively, and has conducted workshops in the US, Canada, Europe, Asia and the Pacific. In 2005, she was presented with the Thomas Berry Award by the Center for Respect for Life and the Environment, and in 2007 was named among the planet's top 15 green religious leaders by Grist magazine.