Sushmita Ghosh
Social Entrepreneurs
Join Michael Lerner in conversation with Ashoka social entrepreneur Sushmita Ghosh.
Ashoka's Changemakers program is pioneering a transparent online community that "open sources" innovative solutions to social problems worldwide. With its focus on thematic, collaborative competitions, it has sourced over 500 high-impact action blueprints for solving social problems.
From our podcast:
The stories began reporting not just about this social entrepreneurial who was a hero, but how a bunch of people took initiative in their own way and connected. So the whole dynamic becomes not just about one person being great, but strategies for connecting with greatness.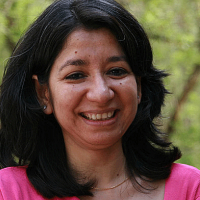 Sushmita Ghosh
Born in India, Sushmita was a journalist who rose through the ranks to become President of Ashoka, the global network of social entrepreneurs. In this conversation she describes Ashoka and her new work with Changemakers, an Ashoka program that extends social entrepreneurship to a wider global community. Find out more about Sushmita on Ashoka's website.