Oren Slozberg
Dialogue, Art, and Group Intelligence
Wicked Problems: problems that are difficult or impossible to solve because of incomplete, contradictory, and changing requirements that are often difficult to recognize. (Wikipedia)
Many of our core issues—like climate change, economic inequality, and the Middle East—are examples of "wicked problems." How can we use group intelligence to re-wire our thinking and address these challenges? One approach is through facilitated engagements with visual art, such as the image above.
Join Michael Lerner in conversation with Commonweal's new chief strategies officer and director of the new Dialogue, Art, and Innovations program, Oren Slozberg. Oren demonstrates and explores a visual-arts based process he helped develop and popularize world-wide called Visual Thinking Strategies. VTS builds group intelligence and can be the foundation for a dialogue on complex social issues.
To see the image used and discussed in the podcast, click here.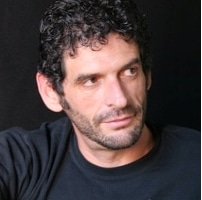 Oren Slozberg
Oren joined Commonweal in November 2013 as the chief strategies officer and the director of the Dialogue, Art, and Innovation program. Prior to Commonweal, he was the national executive director of Visual Thinking Strategies (VTS). He started at VTS in May 2006, bringing more than 20 years of experience in nonprofit leadership and the arts to the organization. Oren is an expert trainer in VTS, and he has trained hundreds of educators in the process, working in a variety of setting ranging from teachers in elementary schools to college faculty.