Anna Deavere Smith
Listening between the Lines
Observation is one of the most exacting skills every artist must cultivate. For a writer, listening is critical to the process of transmuting observed reality into art. Playwright and performer Anna Deavere Smith has shaped a singular career mining the riches of both spoken and unspoken language. Honoring her sources, she has developed an idiosyncratic theatrical form that is composed exclusively of verbatim texts hobbled together from years of interviews with both ordinary and extraordinary people. Her journey has led her through riot-torn streets and up academic ivory towers, encountering a dazzling cross-section of American individuals.
Commonweal Board Member Eric Karpeles talks with Anna about her production, "Let Me Down Easy," which is centered on the drama of the human body and its rough handling in the hands of the medical-industrial complex.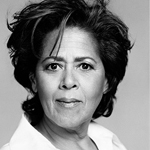 Anna Deavere Smith
Anna a poet, teacher, actor, and playwright. Her explosive theater works about race in America—Fires in the Mirror and Twilight: Los Angeles 1992—garnered considerable acclaim. Television and film credits include Nurse Jackie, The West Wing, The American President and The Human Stain. A professor at NYU, Smith is founder of The Institute on the Arts and Civic Dialogue and has taught at Harvard and Stanford. She was named a MacArthur Fellow in 1996. Find out more about her work on her website.