Erlene Chiang and Host Michael Lerner
Traditional Chinese Medicine for Cancer: A Spiritual Biography
Join TNS Host Michael Lerner with Commonweal Cancer Help Program Qigong teacher and acupuncturist, Erlene Chiang, for a spiritual biography conversation. Erlene comes from a long lineage of classical Chinese Medicine doctors, artists, and scholars: her great-grandfather served as one of the last Chinese emperor's physicians and her late father was a renowned Chinese Medicine doctor for more than 60 years.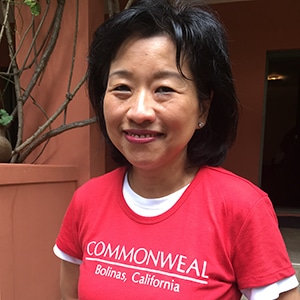 Erlene Yan-Ping Chiang, LAc, DAOM, PhD
Erlene has been practicing in the East Bay since 1985. She specializes in using Traditional Chinese Medicine methods to help with various types and stages of cancer. She received her BS from the American College of Traditional Chinese Medicine, her MS in Oriental Medicine Advanced Research from the American Global University, and her DAOM from the American College of Traditional Chinese Medicine in San Francisco, where she has been an adjunct professor teaching TCM Oncology and Immunology since 2011. She was voted best Asian Herbalist in 2004 by East Bay Express. In addition to teaching, she has private practice at Chung Hua Clinic of Acupuncture and Chinese Herbal Medicine, in El Cerrito, CA, where she specializes in the treatment of cancer and autoimmune disease. Her clinic has just been voted Top Acupuncturist award in El Cerrito 2016 by Open Care. Dr. Chiang is also the Senior Administrative Director of the clinic's martial arts school—Wen Wu School, which offers classes in qigong, tai chi, and shaolin kung fu. Medical Director for Fountain Project Foundation, a nonprofit offering services to underprivileged families in the East Bay.