Jonah Raskin
The Strange Life and the Mysterious Death of Jack London
Join TNS Host Steve Heilig with biographer and journalist Jonah Raskin about the life and the work of Jack London, one of the most popular American writers. London died 100 years ago, in 1916, at the age of 40.
Steve and Jonah, both longtime readers of London's work, talk about his literary and cultural achievements as well as the enduring mysteries and enigmas in his life.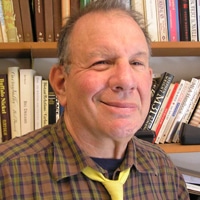 Jonah Raskin
Jonah is a biographer, performance poet, and journalist. The author of 14 books, he taught for 30 years at Sonoma State University in the English department and in communication studies.
The editor of The Radical Jack London: Writings on War and Revolution, he is also the author of Burning Down the House: Jack London and the Wolf House Fire and Mysteries of Jack London: Socialist, White Supremacist, anti-Semite and Lover of Beauty. He writes for The San Francisco Chronicle, The Point Reyes Light, The Bohemian and the Anderson Valley Advertiser.