Mark Renneker, MD
Medical Advocacy for People with Cancer and Other Serious Conditions
~Co-presented with Healing Circles~
We are delighted to present a special day-long training with one of the foremost authorities on clinical advocacy for people with cancer. A longtime Commonweal friend, Mark's incisive vision of clinical advocacy is invaluable for all engaged in Healing Circles and for others who share these interests.
View both part 1 and part 2 of the event video on our Vimeo site.
Download the handouts from Mark's talk: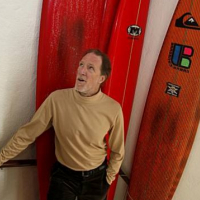 Mark Renneker, MD
Dr. Mark Renneker is a board-certified family physician who lives in San Francisco. He has a unique medical practice that he describes as clinical advocacy. He specializes in working with patients and families who are facing complex medical situations. He doesn't take on their care, but helps them leave no stone unturned, as to learning about and pursuing all possible diagnostic and treatment options, including experimental, mainstream, alternative, and integrative medical strategies. Most of his work is by phone, with patients from across the country and around the world.
Mark's work in clinical advocacy has generated significant interest. He has sponsored workshops at Commonweal on clinical advocacy and now teaches a course on the subject for medical students at University of California-San Francisco, where he is on the clinical faculty.
Mark is also a dedicated surfer, and is the founder of the Surfer's Medical Association. He has surfed giant waves from the Arctic to the Antarctic, but surfs regularly at Maverick's and Ocean Beach, where he lives with his wife, the painter Jessica Dunne, and their large iguana.