Eric Karpeles
My Book Is A Painting: Marcel Proust and the Resonance of the Visual Image
Artist and Commonweal Board Member Eric Karpeles, author of Paintings in Proust, presents this illustrated talk about the visual images alluded to in Marcel Proust's writing.
Paintings in Proust has received considerable acclaim in the United States, Britain, and France, where the French edition sold out its first printing in three weeks. Salman Rushdie called it his favorite book of the year. The New York Times claimed the book elicited "the literary equivalent of a hosanna."  A New York Observer critic wrote that the work is "authoritative, intelligent, amusing, and can be enjoyed without prior exposure to Proust." The same can be said about Eric's talk, which, while specifically about Proust, is also generally about the mind of the artist and the creative process.
Download his presentation here [coming soon.]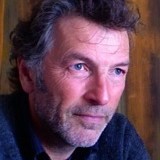 Eric Karpeles
Commonweal Board Member Eric Karpeles is a painter and writer. Born and raised in New York, he has also lived in India and in France, settling in Bolinas in 2007. His painting career has been shaped by the quest for a spiritual presence in art, and by a negative response to the elitism of the contemporary marketplace. The Rockefeller Chapel is a room-sized painting he completed in 1996, a permanent installation at the HealthCare Chaplaincy in New York City. Karpeles writes about painting and the intersection of literature and visual aesthetics; his book, Paintings in Proust, translated into several languages, was a "book of the year" in the NY Times, the Times of London, and The Wall Street Journal.