Catherine Baumgartner
Embodied Ecologies: Exploring Biocultural Neuroscience
Join TNS Host Michael Lerner in conversation with Catherine Baumgartner, project director at Embodied Ecologies, a new organization dedicated to building large-scale knowledge and action partnerships that leverage the latest research findings in neuroscience, cognitive science, somatic psychology, and biocultural diversity in exploring and understanding the links between place, embodied experience, language, and culture.
Catherine's exploration of art as an embodied expression of place began 15 years ago, inspired by her experience as a performer with the site-specific dance company Global Site Performance, directed by Marylee Hardenbergh. Seeking further insight into the embodied aspects of place-based artmaking, Catherine turned to neuroscience, gradually piecing together clues that revealed a picture of the human nervous system as the crucial medium through which sensory experience of place is translated into symbolic systems such as art, language, and culture. Find out more about Embodied Ecologies on their website.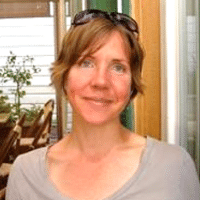 Catherine Baumgartner
Catherine is an artist, interdisciplinary inquirist, and initiator of collaborative projects that explore the ways in which individuals and communities relate to living environments and translate these sensory experiences into worlds of meaning. Her creative practice encompasses movement, poetry, installation art, and collaborative place-based art, and her inquiry into meaning-making draws on multiple fields. She received her master's degree in Transformative Arts from John F. Kennedy University.